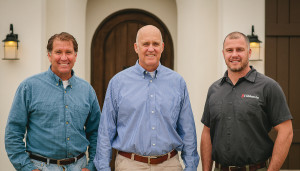 Gibbons and Wheelan is a local, family company. Gibbons and Wheelan builds custom and semi custom homes throughout Bakersfield and has been in business since 1995.
After years of working with a large builder/ developer, the first cousins (their mothers were twins) Greg Gibbons and Brad Wheelan, decide to venture out on their own. In 1995 they combined their construction and development experience and Gibbons and Wheelan was born. Since then, Greg and Brad have been involved in creating some of the most successful and desirable neighborhoods in the Bakersfield area. Recently, Greg's son Grant has joined the company and continues the family trade.
Your home is most likely the single greatest investment you will ever make. We understand this and we take great care to insure that each and every home we build is constructed with the highest standards. When you purchase a Gibbons and Wheelan home, you are a part of 4 generations of family building homes right here in Bakersfield.